When shopping for lighting, you can now use the Lighting Facts label and lumens to compare bulbs and purchase a bulb with the amount of brightness you want.
THE LIGHTING FACTS LABEL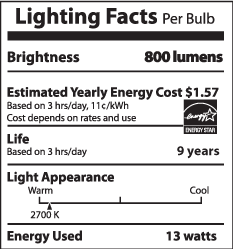 You'll find a new label on lightbulb packages starting in 2012: the Lighting Facts label. The Federal Trade Commission is requiring the label on all lightbulb packages to help consumers easily compare energy-efficient lightbulbs. The label includes:
Brightness, measured in lumens
Estimated yearly energy cost (similar to the EnergyGuide label)
Lifespan
Light appearance (from warm to cool)
Light appearance, measured by correlated color temperature (CCT) on the Kelvin (K) scale, from warm to cool.
Like the helpful nutrition label on food products, the Lighting Facts label will help you to understand exactly what you are buying and to buy the lightbulbs that are right for you.
LUMENS: A NEW WAY TO SHOP FOR LIGHT
In the past, we bought lightbulbs based on how much energy, or watts, they use. Wouldn't it make more sense to buy lights based on how much light they provide?
When you're shopping for lightbulbs, you can choose your next lightbulb for the brightness you want by comparing lumens instead of watts. A lumen is a measure of the amount of brightness of a lightbulb — the higher the number of lumens, the brighter the lightbulb.
If you're replacing an inefficient 100W bulb, look for an energy-saving bulb that puts out about 1600 lumens. To replace a 60W equivalent, look for a bulb with about 800 lumens.
So when you're looking for a new bulb, look for lumens — or how bright the bulb is. Now that's a pretty bright idea!
NEW LIGHTING STANDARDS IN 2012
Beginning in 2012, the common lightbulbs we use will be required to be about 25% more energy efficient to meet the new efficiency standards of the bipartisan Energy Independence and Security Act of 2007 (EISA 2007).
As of January 1, 2012, traditional 100W incandescent lightbulbs will not meet the standards and will no longer be available. Similar standards will take effect for traditional 75W incandescent bulbs as of January 1, 2013, and traditional 40W and 60W incandescent bulbs as of January 1, 2014. However, you have many lighting options that are EISA-compliant and will save you money.